RICHARD MEIER
Studium an der Cornell University. 1963 eröffnet Richard Meier sein eigenes Büro. 1984 erhält Richard Meier den Pritzker-Preis(höchste Auszeichnung für Architekten).
Bauwerke Übersicht:

2004 Jesolo Lido Hotel und Wohnviertel, Jesolo Lido, Italien
2002 World Trade Center Design Vorschlag, New York
2002 Avery Fisher Hall, Lincoln Center, Konzert Halle, New York
2001-2002 66, Restaurant, New York
2001-2005 Peek & Cloppenburg Kaufhaus ,Mannheim
2001-2004 Santa Barbara Haus, Kalifornien
2001-2004 Burda Kollektion Museum, Baden-Baden
2001 Wjinhaven Kwartier, Stätebauvorschlag, Den Haag
2001 FSM East River Masterplan
2001-2005 Yale University History of Art and Arts Library, New Haven
2001 Performing Arts Center
2000-2003 UCLA Broad Art Center
2000-2005 Pankrac City Masterplan
1999-2002 173/176 Perry Street
1999-2003 Painted Turtle Camp, Lake Hughes, Kalifornien
1998-2001 Southern California Beach Haus
1998-2003 San Jose Bürgerzentrum
1998-2001 Rickmers Reederei Hauptgeschäftsstelle
1998-2002 Canon Hauptgeschäftsstelle
1996-2004 Cittadella Bridge, Brücke, Alessandria, Italien
1998-2000 Friesen Residence
1998-2001 Peek & Cloppenburg Kaufhaus, Düsseldorf
1997-2001 Haus in Kuala Lumpur
1996-2003 Crystal Cathedral International Zentrum für positives Denken
1996-2004(Baubeginn Juli 1998) Jubilee Church, Rom
1995- Museum for the Ara Pacis
1995-2005 Arp Museum
1995-1998 Neugebauer Haus
1994-2000 Sandra Day O'Connor United States Courthouse
1994-1995 Gagosian Gallery
1994-1996 Museum Television & Radio
1993-2000 U.S. Courthouse and Federal Building
1991-1995 Swissair North American Hauptgeschäftsstelle
1990-1998 Camden Medical Centre
1989-1993 Hypolux Bank Building
1989-1992 Daimler-Benz Research Center
1987-1995 Barcelona Museum of Contemporary Art
1988-1992 Canal+ Hauptgeschäftsstelle
1988-1995 Espace Pitôt
1987-1992 Royal Dutch Paper Mills Hauptgeschäftsstelle
1987-1992 Weishaupt Forum
1987 Madison Square Garden Neuentwicklung, Wettbewerb
1991-1996 Rachofsky Haus II
1986-1995 Hague Rathaus and Zentral Bibliothek, Hague, Niederlande
1986-1993 Exhibition Hall and Assembly Building, Ulm
1985-1989 Siemens Hoffmanstrasse, Büro und and Labor Komplex, München
1984-1997 Getty Center, Los Angles
1984-1989 Grotta Haus
1984-1989 Bridgeport Center
1984-1986 Ackerberg Haus, Ergänzung/Umbau von 1993-1995
1984-1986 Westchester Haus
1983-1999 Siemens Hauptsitz,
1982-1984 Des Moines Kunst Center, Ergänzung/Umbau
1980-1983 High Museum of Art
1979-1985 Museum für angewandte Kunst, Frankfurt
1979-1983 Giovannitti Haus
1978-1981 Hartford Seminary
1978-1982 Clifty Creek Grundschule
1977-1979 Haus in Palm Beach, Ergänzung/Umbau 1995
1977-1978 Aye Simon Reading Room The Solomon R. Guggenheim Museum
1975-1979 Das Atheneum
1972-1974 Shamberg Haus
1971-1973 Douglas Haus
1971-1976 Maidman Haus
1970-1976 Bronx Developmental Center, Entwicklungszentrum in New York
1968-1971 Haus in Old Westbury
1967-1969 Saltzman Haus
1967-1970 Westbeth Artists Housing
1966-1969 Hoffman Haus
1964-1966 Smith Haus

Richard Meier
"Die Seite" von Richard Meier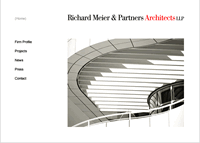 Sir Norman Foster
Foster and Partners
Die Seite von Norman Foster und Partnern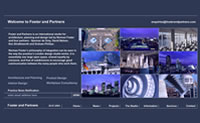 1999 Laureate Announcement
von derPritzker Prize site.
Great Buildings Online: Norman Foster
Alvar Alto
Alvar Aalto
gute Seite von NY MOMA über ihre Ausstellung des Architekten / Designers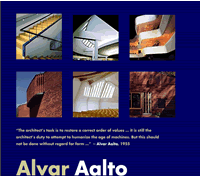 RENZO PIANO
Announcing Renzo Piano as the 1998 Pritzker Architecture Prize Laureate

Great Buildings Online: Lorenzo Piano
Frank Lloyd Wright
Frank Lloyd Wright - Designs for an American Landscape, 1922-1932 -
Frank Lloyd Wright Building Conservancy
Frank Lloyd Wright Foundation
Frank Lloyd Wright School of Architecture
Frank Lloyd Wright sonstiges
| | |
| --- | --- |
| | aufwärts |